In 1969, One Of Rock Music's Most Influential Bands Came To Dallas For A Run Of Shows That It Recorded And Released A Few Years Later.
Exactly 50 years ago this week, the Velvet Underground came to Dallas to perform a run of shows from October 14 through October 19 at the long-defunct Uptown venue known as End of Cole Avenue.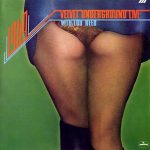 At least a portion of those shows were documented for posterity, and they eventually saw the light of day on 1969: The Velvet Underground Live With Lou Reed, a double LP released by Mercury Records in September 1974. The album arrived a year after a somewhat forgotten part of the band's history, when bassist Doug Yule released Squeeze as the Velvet Underground — but without Lou Reed.
Across its 20 tracks, the album features versions of "I'm Waiting for the Man," "Femme Fatale," "Pale Blue Eyes," the intro of "Some Kinda Love" and "I'll Be Your Mirror" that were recorded in town on October 19, 1969. The rest of the tracks were recorded the following month at the San Francisco club The Matrix.
Located at 4926 Cole Avenue near the intersection of Harvard Avenue — right off of the Katy Trail, next to where Javier's is housed now — End of Cole Avenue booked all kinds of acts, from blues to psychedelic rock. But if it weren't for the Velvet Underground, most people outside of the Dallas County lines might have never heard of it the venue.
A lot of myth-making has gone into the Velvet Underground's lore — from the clothes they wore to what they sang about to their connection with Andy Warhol. Perhaps the biggest explanation for mystery behind the band is that it was largely misunderstood when its members were still together, and its albums famously sold poorly as the band was active.
Despite its many misconceptions, the band would eventually go on to inspire and influence future generations long after it broke up and once Lou Reed had earned a higher profile as a solo artist. This is the part where we are obligated to paraphrase Brian Eno's line about the band: "They didn't sell a lot of records when they were together, but everyone who bought one formed a band."
Whether it's R.E.M., Nirvana, Wilco or the alternative rock genre as a whole, the Velvet Underground is vital in understanding how rock music evolved from "I Want To Hold Your Hand" to "Smells Like Teen Spirit."
At the time of the Dallas recording, the band was touring its self-titled third album. But listening to 1969, it's obvious that this is not a standard live record. It's not like Kiss' Alive or the Rolling Stones' Get Yer Ya-Ya's Out! No, it sounds like what it likely was — a sparse crowd watching a weird little band from New York, which featured Reed on guitar and lead vocals, Sterling Morrison on guitar and backing vocals, Mo Tucker on drums and Doug Yule on bass (plus some lead vocals, including "I'll Be Your Mirror").
Before the first song of the set, Lou Reed asks the crowd at End of Cole Avenue if there is a curfew, and then asks if they would like to hear one long set. Reed then mentions the Dallas Cowboys' crushing 49-14 victory over the dreaded and feared Philadelphia Eagles earlier in the day. (That season, the Cowboys' roster featured Craig Morton, Roger Staubach, Mike Ditka, Dan Reeves and Mel Renfro, just to name a few.) Reed then leads that into "I'm Waiting for the Man," which here has a straightforward beat instead of the more staccato beat heard on The Velvet Underground & Nico.
Even when looking at the array of songs from the band's records at the time, what's often overlooked is the band's ability to write gorgeous songs such as "Stephanie Says" and "Sunday Morning" while also coming up with sonic assaults like "Sister Ray" and "Heroin." The Velvet Underground somehow pulled off all of those things, and yet somehow the appreciation for its efforts came in the form of a slow burn.
Listening to it now, 1969: The Velvet Underground Live With Lou Reed definitely provides an interesting to look back at a specific moment in the band's enigmatic history — and the surprising role that Dallas managed to have within it.
You can listen to Vol. 1 and Vol. 2 of the live album on Spotify. Also, shouts to State Fair Records' Paul Williams for the story tip; his label has plenty of dope releases of its own.