Scenes From Last Night's Sold Out Kacey Musgraves Show At Granada Theater.
One multiple Grammy-winning album does not an icon make, no.
But after catching Kacey Musgraves' performance at the Granada Theater last night, it's my firm belief that this vaunted territory is exactly where the Mineola native is headed.
It only took me about six songs into her set to come to this realization. That's when Musgraves whipped out her cover of Dolly Parton's "Here You Come Again" — a song that she previously sang with Katy Perry on an episode of CMT's Crossroads earlier this year — and I started to realize that she and the country legend actually share quite a bit in common.
Musgraves, for instance, frequently speaks and writes about her humble, small-town origins. And her lyrics are an empowering mix of clever lines and blunt admissions.
Then there's her well-crafted stage setup, which includes neon cacti; a backing band wearing matching, light-up western suits; a huge desert-themed backdrop; and serapis draped over all the amps that make it painfully aware how much forethought went into the production.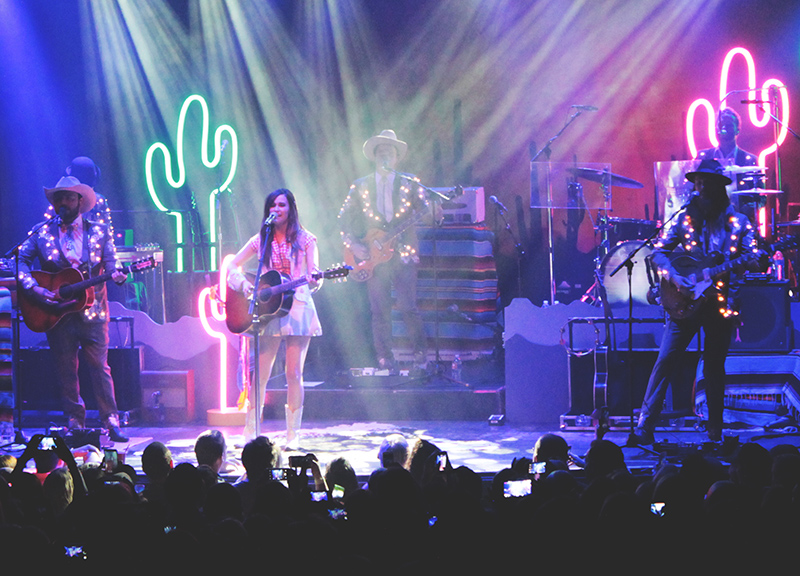 Still, calculated as the whole thing clearly is, Musgraves' charm makes everything she does come off as earnest and alluring as all get-out.
Like Parton, Musgraves is the complete package. Last night, her vocals sounded as good — if not better — than on record. She played several instruments during her performance, too. Among those? Guitar, banjo, harmonica and various percussive instruments. Also — and we can't drive this point home hard enough — Musgraves is one hell of a talented songwriter.
Never was this more evident than when she whipped Miranda Lambert's "Mama's Broken Heart" midway through her set — a song that Musgraves actually wrote. It wasn't just one of the night's most electric moments because Musgraves' rendition was every bit as exhilarating as the version Lambert took to No. 2 on the Billboard Hot Country charts last year. It was also a reminder that Musgraves is more than just a flash in the pan.
That song, you may remember, was one of two Musgraves-penned tunes nominated for the "Best Country Song" at this year's Grammys. She ended up losing to herself there: Her "Merry Go Round," from her own debut LP, took home that trophy. And, yeah, she performed that one, too. In fact, Musgraves performed all but one track from last year's Same Trailer Different Park ("Back on the Map" got the shaft) at last night's show.
Then again, she kind of had to: As Musgraves quipped at one point, it's been a crazy, busy year, and she hasn't had time to record a new album yet. She's been on the road for the better part of a year now, even spending part of that time opening for Katy Perry on tour.
"That shit was crazy," Musgraves remarked about that odd couple pairing at one point.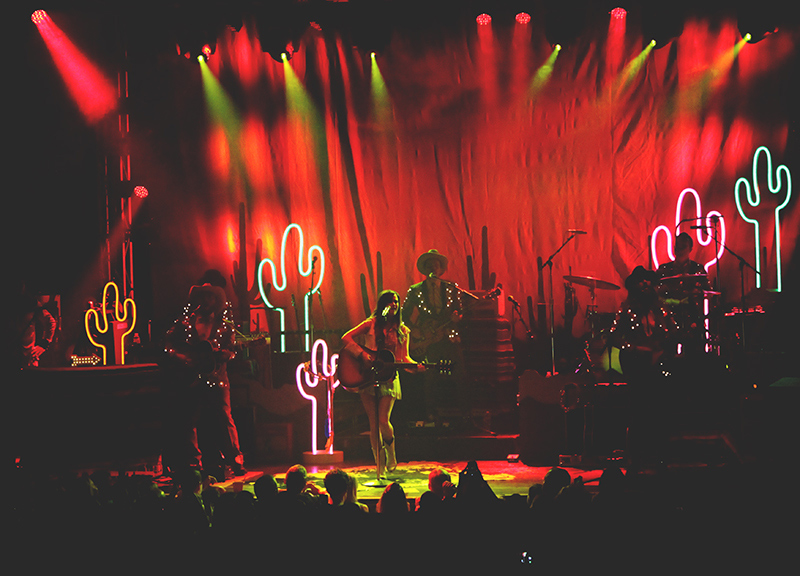 In turn, the rest of Musgraves' set was filled out by an interesting set of covers — from classic country artists like George Strait and Dolly Parton, to more unexpected turns like an incredible version of TLC's "No Scrubs" and an odd segue in which the second half of "Step Off" turned into a reggae jam that transitioned into Bob Marley's "Little Birds." That blend was the closest Musgraves came to a misstep all night, but damn near everybody at the sold-out show was still belting out that song's familiar "every little thing is gonna be alright" refrain with Musgraves just the same.
Like a Dolly-type figure, Musgraves can get away with quite a lot.
Also like Parton, whose live set I caught earlier this year, Musgraves' between-song banter is, perhaps, most indicative of the fact that she will likely still be steadily touring and selling out big venues well into her '60s.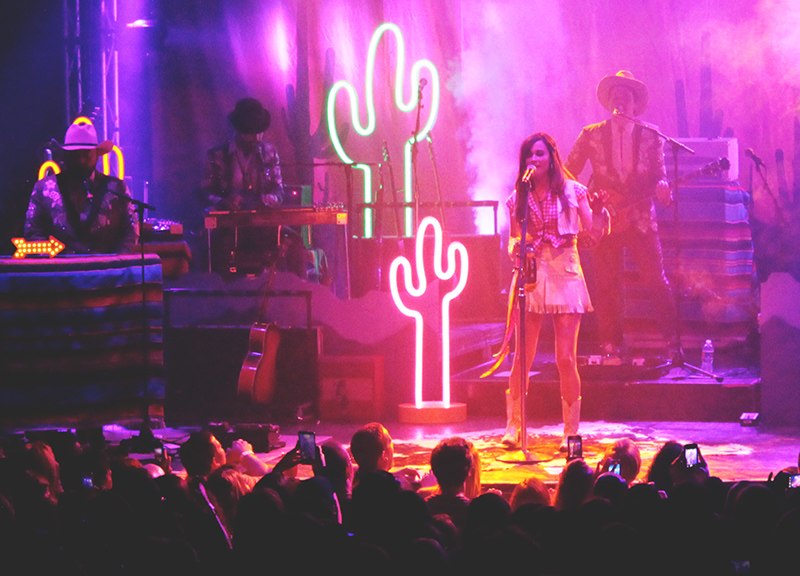 Whether it be her persistent cursing, a crack about Ebola or innate ability to make the audience feel like an old friend, Musgraves shares Parton's almost indefinably magnetic aura that helped her transcend country superstardom to crossover star and, eventually, to legendary status.
Sure, Kacey's got about 60 albums, a handful of film appearances and theme park ownership to go before she truly becomes as fraction of the icon that Dolly is and forever will remain. And, hyperbole aside, it'll be decades before we really know what Musgraves' legacy will be.
But after seeing her expertly executed show last night at the Granada, it's obvious at this point: Musgraves has all the makings to become one of this generation's most enduring musical figures.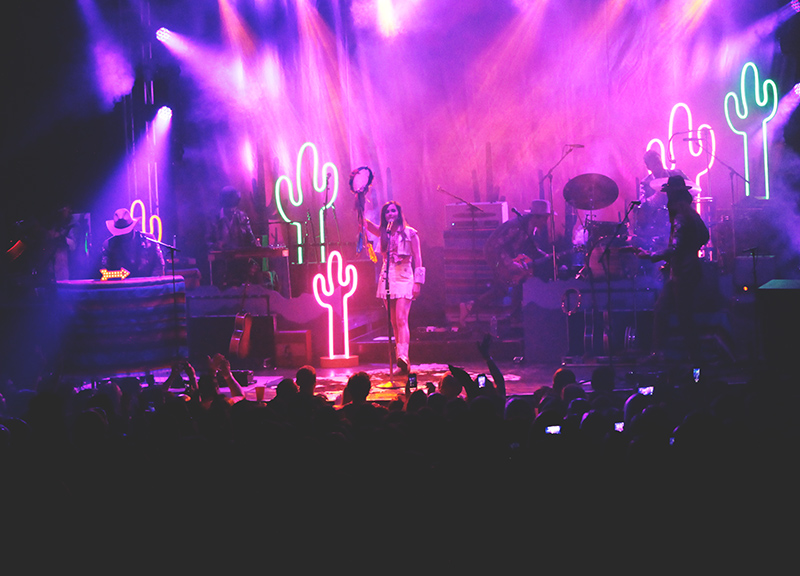 Set List:
Silver Lining
Stupid
Blowin' Smoke
I Miss You
High Time (new song)
Here You Come Again (Dolly Parton cover)
The Trailer Song
Keep It To Yourself
Dandelion
Mama's Broken Heart
No Scrubs (TLC cover)
It Is What It Is
I Just Want To Dance With You (George Strait cover)
Step Off
Three Little Birds (Bob Marley cover)
Merry Go Round
My House
Encore:
Biscuits (new song, solo acoustic)
Cup of Tea (new song, solo acoustic)
These Boots Are Made For Walkin' (Nancy Sinatra cover, full band)
Follow Your Arrow (full band)