Even Wrestling Podcast Meet-and-Greets Unrelated To WWE Are Big Draws During WrestleMania Weekend.
I've been a fan of professional wrestling since I was five years old, and even I'm overwhelmed by how much activity WrestleMania has created here in town.
The actual event isn't even in Dallas, but more than one person has said something to me about how you can see the effect that hosting it has had here on tourism in the last few days. I've noticed that too, and while I thought I knew what this influx of wrestling fans would look like, I keep feeling taken aback at just how many fans of the WWE have flooded into this region for the weekend.
Considering the turnout for the Cheap Heat podcast meet-and-greet at Off the Record in Deep Ellum on Saturday afternoon — and the lack of preparation for that turnout — I suspect I'm not alone in underestimating the awesome power of WrestleMania.
I made it to Off the Record just before 5 p.m., when the event was supposed to start, and walked into a near-solid block of humanity. There was elbow room on the back patio, but the space around the actual bar area looked like the floor of a stock exchange, albeit one where the brokers wear T-shirts with pictures of their favorite wrestlers instead of suits and ties. Sure, some of those people might have been in the area because of the Deep Ellum Arts Festival that was going on a few blocks over, but much of the crowd was wearing something wrestling-related, and I'm fairly certain the guy cosplaying as wrestler Dean Ambrose isn't in town for the arts festival.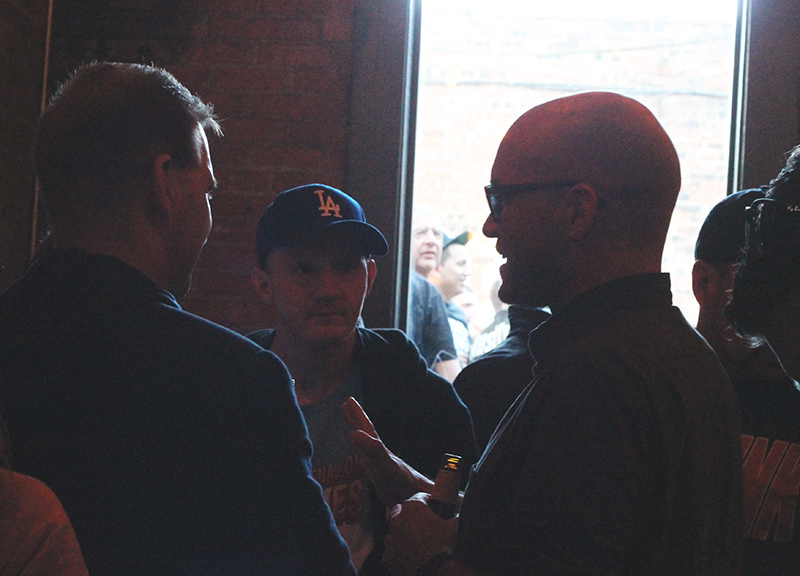 Speaking of wrestling attire: One fun difference between the fans at Off the Record and the fans at more formal WWE-official events like WWE Axxess is that the concentration of retro, ironic or just plain odd tees at the unofficial stuff is off the charts. The wrestling podcast fan seems to have more cultivated tastes — or at the very least wants a way of showing off a depth of knowledge. This was the only event of the weekend where I saw a D'Lo Brown shirt, and I don't expect that to change.
Another fun thing about the Cheap Heat meet-and-greet? Unlike professional wrestlers, guys who are in the wrestling media tend to look like their fans, which made finding them a fun, Where's Waldo?-esque challenge. Making things more difficult in this regard was the fact that there wasn't much rhyme or reason to what was going on at the event. The hosts weren't on hand to record a podcast, and they had no plans to make the event a formal autograph signing, either. They just kind of drank beers like the rest of us.
That being said, one of the hosts, David Shoemaker, wrote a seminal book on professional wrestling (The Squared Circle) and many people had copies on hand for him to sign, which he seemed happy to do. Still, this was just a meet-and-greet, or basically a fun hangout where fans and podcasters could mingle. In practice, this idea might have been a little too fun: The place was packed, and it didn't look like anyone who booked the event had anticipated that happening. I'd heard grumblings not early on that co-host (and Hot 97 radio personality) Peter Rosenberg would be delayed until a 6:30 p.m. arrival, and I assumed that meant the event as a whole would be postponed. Then, at around 5:30 pm., I got word that David Shoemaker had already arrived. After a quick scouting of the area, I found him — as much as he might look like the rest of us, Shoemaker is the only wrestling fan who attracts an orbit of his own fans (a well-deserved orbit, by the way, since he got his start writing Deadspin's "Dead Wrestler of the Week" column, which despite its sensational title was fantastic, deeply felt work).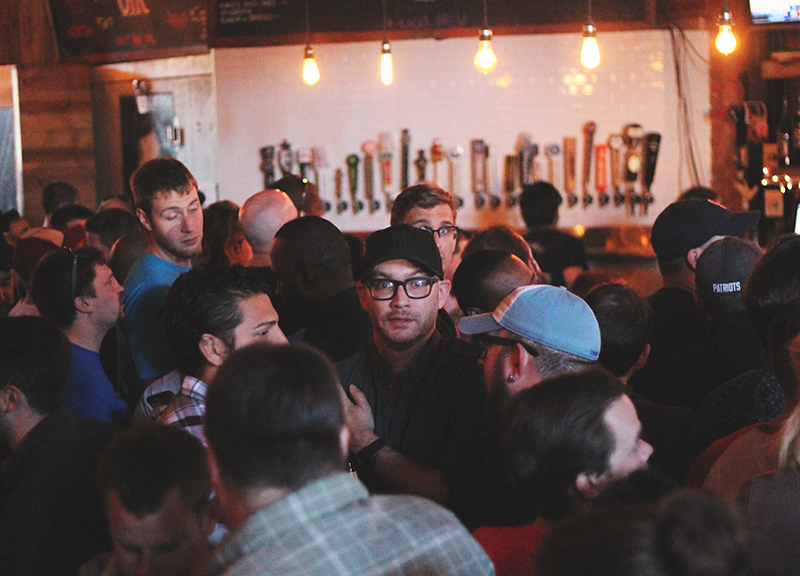 We've already reported on the speculation that WrestleMania 32 could bring more than $140 million to the region, but I didn't appreciate what an extra $140 million (or more) looks like until I saw the attendance that an event on the fringe of the wrestling scene can generate. Cheap Heat isn't a WWE-sponsored program at all, but scores of people turned out just to interact with its hosts just the same.
After briefly talking with Shoemaker, I got the sense that I wasn't alone in my surprise.
"This was Greg's idea," he told me, referring to Stat Guy Greg, a contributor to the program. "We didn't have anything formal planned, just a chance to meet with fans in the area."
Taking note of the crowd, he continued: "This is more than I was expecting."
I was surprised, too. But if the outcome caught the experts off guard, I don't think I need to beat myself up about it.