This Week, Maren Morris Was Ready To Roll.
Each week, we take a survey of the local music scene and try to determine which acts in town are really putting in work and seeing it pay off. Which bands have the most intriguing shows coming up? Which bands are getting the most press around town? Which bands have accomplished the most notable feats of late? Based off these criteria, our music writers submit a list to be weighted and compiled into a master list revealed each week in this here space. We like to think it's fairly revealing. Check out our previous Buzz Rankings here.
What's left to say about Maren Morris' ascent? Not much after last week's reveal that the Arlington native's been nominated for five CMA Awards — tied for the most of any artist, right along with Eric Church and Chris Stapleton.
Perhaps there's nothing left to say about the 26-year-old's rise because it's no longer an in-progress thing. With those nominations, it's safe to say that Morris has finally "arrived."
Of course, those who've been paying attention to these here rankings might have seen this all coming. This week's win represents Morris' seventh overall No. 1 in our Dallas music power rankings. Perhaps she'll celebrate this nod when she comes back through her hometown in support of her June-released Hero LP on October 14 while opening for Keith Urban at the American Airlines Center? Doubtful, but you never know!
One thing we do know is that North Texas has a knack for producing powerhouse female vocalists: Joining Morris in the Top 10 this week are Miranda Lambert (No. 2), who just earned an ACM Award named after Merle Haggard; Erykah Badu (No. 5), who wrote an essay about joy for Essence this week and is getting ready for the premiere next week of the Comedy Central series she's music supervising; and Selena Gomez (No. 8), who announced she's taking a break from the limelight to deal with some anxiety and depression related to her lupus.
Also making waves this week are the Texas Gentlemen (No. 4), who'll follow their performance at The Rustic last week where they were joined by Leon Bridges (No. 5) with a set at the Double Wide's 13th anniversary bash on Saturday night. Midlake (No. 6), meanwhile, announced a re-issue of The Trials of Van Occupanther complete with some new bonus material. Then there's The Polyphonic Spree, which announced a busy October that will include both a gig at Dada and the opening of its manager's new restaurant on Garland Road.
Elsewhere: Charley Crockett kept on singing the blues; -topic launched an open mic series with the money he got as the first musician in Dallas to receive an arts grant from the city; former A.Dd+ member Paris Pershun released his first song as a solo artist; and Mur is gearing up to release a new album this weekend.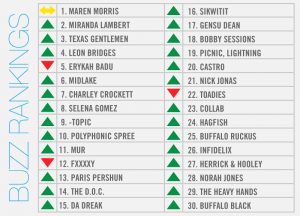 (Also receiving votes: Meat Loaf, Vincent Neil Emerson, Kadie Lynn Roberson, Bill Longhorse, Paul Cauthen, Dezi 5, 88 Killa, Demi Lovato, She Banshee, Mountain of Smoke, Kaboom, Baboon, Dead Flowers, AV The Great, Go Yayo, Kacey Musgraves, Chester Rushing Band, Christy Ray, Rat Rios, Street Arabs, 7evenThirty, Sudie, Cut Throat Finches, Fishboy, The Buck Pets, Moth Face, Claire Morales, Mink Coats, Mono Culture, Blake Parish, Caterpillars and Cut Throat Finches.)