This Week, Erykah Badu Was A Legend.
Each week, we take a survey of the local music scene and try to determine which acts in town are really putting in work and seeing it pay off. Which bands have the most intriguing shows coming up? Which bands are getting the most press around town? Which bands have accomplished the most notable feats of late? Based off these criteria, our music writers submit a list to be weighted and compiled into a master list revealed each week in this here space. We like to think it's fairly revealing. Check out our previous Buzz Rankings here.
Last night was a pretty big one for Erykah Badu.
Not only did she pop up for a surprise performance of "Tyrone" and "On & On" at Puff Daddy's Bad Boy reunion show at the American Airlines Center, but Comedy Central also premiered Legends of Chamberlain Heights. And, as you may recall, that's the program on which she's serving as the music supervisor.
Those items would make for a big week for just about anyone. And yet, for Badu, it was just another night.
That kind of brilliant nonchalance is what sends her to the top of this list for the astounding 19th time since we started doing these weekly, local music power rankings. Yes, the Queen reigns again, folks.
In fact, the only person with more Buzz No. 1's is the guy in this week's No. 2 hole — Mr. Leon Bridges, who has 22 No. 1s of his own.
Leon, of course, is coming home this weekend to headline the Music Hall at Fair Park as part of the last tour in support of his debut LP. Other big shows this week include(d) Demi Lovato and Nick Jonas over at the AAC, Ishi's big album release party at Trees, Charley Crockett's Beats and Eats thing at Granada and Paul Cauthen's opening turn for Ryan Bingham at South Side Ballroom. Cauthen, who has a record about to drop via Lightning Rod, will have a little listening party for that sucker over at the Belmont, too.
On top of that, acts like Lower Dens, Buffalo Black, Mur and Buffalo Ruckus all released new music, too. In Buffalo Ruckus' case, theirs also includes a new namesake beer. And not to be forgotten, Kacey Musgraves announced a star-studded Christmas album due out in a few weeks.
Elsewhere: The Texas Gentlemen and Baboon helped Double Wide celebrate another birthday; Poizon Ivy was named the new Mavericks DJ; and CoLab is celebrating its 10-year anniversary.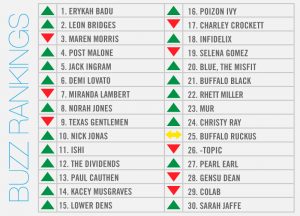 (Also receiving votes: Sealion, Burning Hotels, The Phantom Sensation, Kadie Lynn Roberson, True Widow, Rigor Mortis, Stumptone, Rise & Shine, Quaker City Night Hawks, Vandoliers, Kirby Brown, Daniel Markham, Tyler Sloan, Vincent Neil Emerson, Baboon, Matt Tedder, Party Static, EB Rebel, NEONNOAH, Kyle Dixon & Michael Stein, Green River Ordinance, Josh Weathers, Wesley Geiger, Astronautalis, Cut Throat Finches, Chester Rushing Band, Sam Lao, Lance Lopez, Sunbuzzed, Supersonic Lips, Rikki Blu, Picnic Lightning, Hemmle, Joe Gorgeous.)
Cover photo by Jonathan Stafford.