Pat Green's New Uptown Venue Will Hold Up to 2,000 People.
Earlier this week, the news broke that Texas country star Pat Green and the Bowl & Barrel tandem of Kyle Noonan and Josh Sepkowitz were working together as part of a team bringing a new live music venue to Uptown. As we reported at that time, the venue, set to be called The Rustic and located near the intersection of Lemmon and Central Expressway, will be an indoor/outdoor space featuring an expansive "backyard" area and "the largest selection of Texas beers found anywhere."
The press release also announced that the food menu will be overseen by chef Sharon Hage, formerly of York Street, who also currently oversees Bowl & Barrel's food.
Today, we learn a little more about the Rustic's plans for its live music offerings — and, specifically, the spots live music plans. In an email, Noonan confirms that the venue will feature both an indoor stage and an outdoor one, the latter of which will be a part of that "backyard" area.
And we're not talking small stages, either: "The outdoor venue can accommodate crowds of up to 2,000," Noonan writes. "The indoor can hold up to 400."
For comparison's sake, some venues capacities around town: the Granada Theater holds 1,100; the House of Blues' main room holds 1,600; the House of Blues' Cambridge Room hold 400; the Prophet Bar's big room holds 1,200; the Prophet Bar's small room holds 250; Club Dada holds 400; Trees holds 600.
So, yeah, those are big stages.
Who will book them? Tough to say, although Noonan notes that the Grammy-nominated, Fort Worth-dwelling Green will "be very closely involved with the music program." He'll also "occasionally" play it, Noonan says.
Welcome to the live music community, Uptown.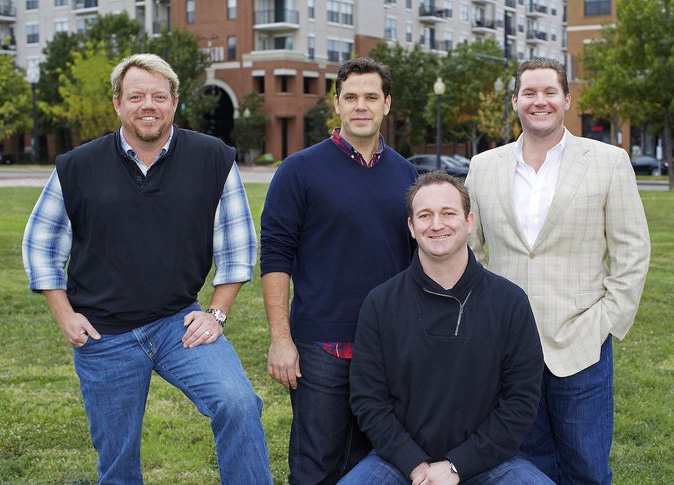 The dudes behind the space (from left to right: Pat Green, Kyle Noonan, Josh Sepkowitz and Brian Manion), standing where it'll go…