20dec8:00 pm10:00 pmUgly Christmas Sweater Contest at BrainDead Brewing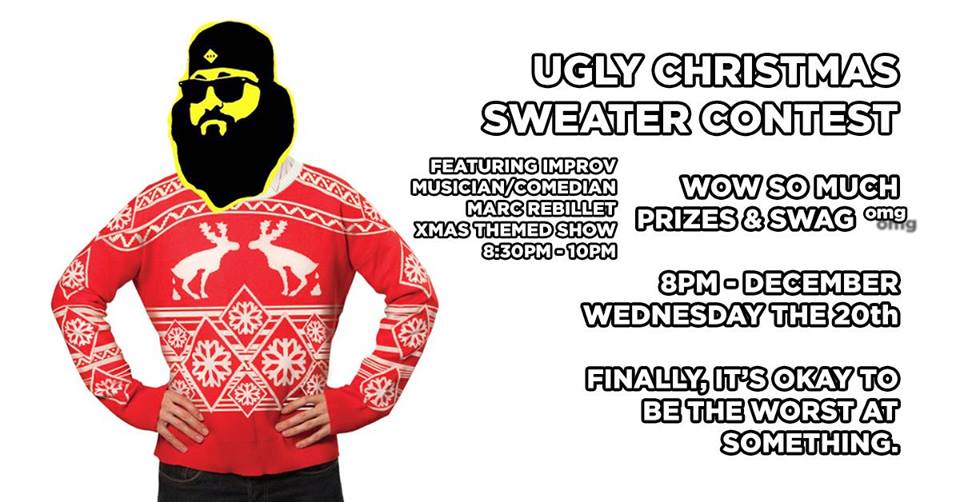 Event Details

To be eligible as an Ugly Christmas Sweater Contestant you must wear a Christmas or Winter themed Sweater, Sweatshirt, or Sweater Vest. Turtlenecks and long or short-sleeved t-shirts will not be accepted. You may wear such items underneath an Ugly Christmas Sweater-vest, but it will not be considered part of your sweater and therefore not eligible for judging. You may add to or alter your Christmas sweater however you like, have fun and get creative. Additional items such as hats, jewelry or other festive attire will not be considered when voting for the Ugliest Christmas Sweater. An item must be attached to your Christmas sweater in order to be eligible.

You can be disqualified from the Ugly Christmas Sweater Contest for the following:

– Putting on your ugly Christmas Sweater after entering the contest (you must be already wearing your sweater when you show up to BrainDead).
– Removing your sweater before the Ugliest Christmas Sweater Champion has been announced.
– Altering your Christmas sweater after entering the contest (any and all alterations or additions to your sweater must be completed before entering the contest).
– Swapping your sweater with another contestant before the Ugliest Christmas Sweater Champion has been announced.
– If you are overheard using the words "New England IPA" at any point after the contest has started (just kidding, we like NEIPAs).

The winners will win swag from BrainDead + other goodies. More to be announced.