18jun7:00 pm11:59 pmScott Stapp at Trees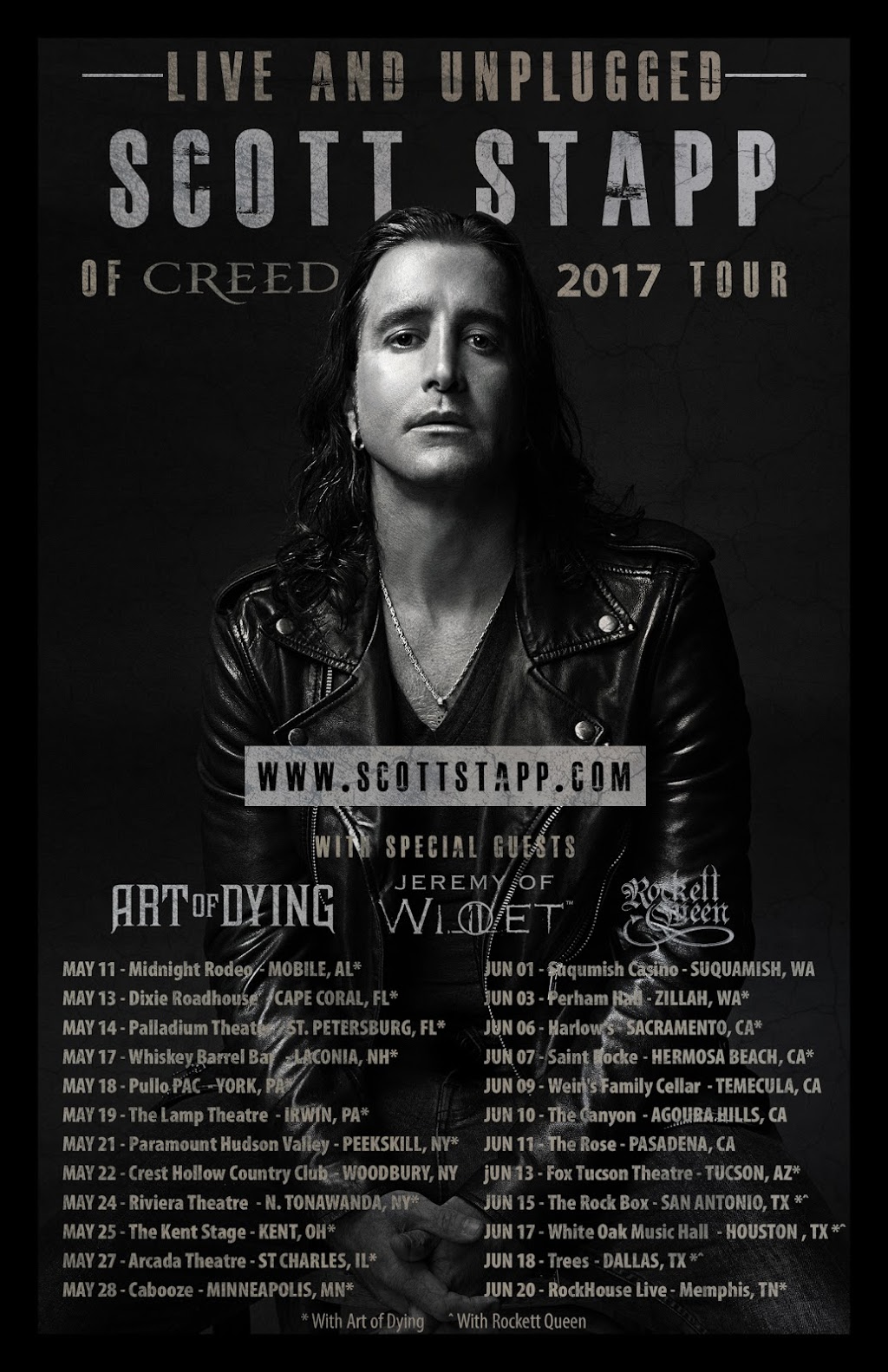 Event Details

It's not easy to find a success story as genuine as Creed's in popular culture these days when considering all of the carefully scripted rises to glory and the falls that inevitably follow careers built on hype. If any band in recent years can claim to have ascended strictly on its own merits, it's Creed. This Florida-based band went from zero to sixty, (or, more accurately, from zero to selling more than twenty million albums) by virtue of a combination of finger-on-the-pulse songs and powerful live performances. Their debut album, My Own Prison, has sold over six million albums to date. Creed's sophomore effort, Human Clay, debuted at #1 on the Billboard charts and has gone on to sell more than 10 Million copies. The band's third release, Weathered, also debuted at #1, selling more copies in its first week than any other rock release in 2001, and tying the record for the longest run at the top following a #1 debut.

"With My Own Prison, I knew we had the talent to get a record deal and I knew we had songs good enough to get played on the radio, but I never had any expectations of reaching this many people," says Creed's frontman Scott Stapp.

Nonetheless, the band's success has been truly phenomenal. Creed was the first band in history to have four #1 Rock Radio singles from a debut album. On the strength of their singles, including the crushing title track and the more pensive "What's This Life For," Creed topped countless year-end charts and was recognized as the Rock Artist of the Year at Billboard's 1998 Music Awards. Their debut album was also the #1-selling Hard Music album of 1998 on SoundScan's Hard Music chart.

With the release of their second album, Human Clay, Creed upped the ante yet again. "Higher," the first single from their 10-times platinum sophomore release, broke the Active and Mainstream Rock airplay records for the most consecutive weeks at #1, holding the coveted spot for eighteen weeks. Furthermore, Creed was recognized once again as the Rock Artist of the Year at Billboard's 1999 and 2000 Music Awards. Human Clay 's first three singles ("Higher," "What If" and "With Arms Wide Open") again achieved #1 status, setting a record with a total of seven consecutive #1 Rock Radio singles.

"We're the type of band that functions really well under pressure and the only pressure that we recognize is our own. We definitely wanted to top ourselves [after the My Own Prison album]," says Stapp. "We wanted to make a really great record. The band's goal has always been to make records that are solid from start to finish; records that take you through an entire range of emotions." Guitarist / co-writer Mark Tremonti added, "We always kept in mind that we had to write for ourselves because as long as we are proud of it, our fans will be as well. We try not to set any other goals above and beyond that." While Stapp grants that the band's increased resources had some impact on the structure of Human Clay, it's clear that Creed's evolution is far more than just a matter of dollars and cents.

Once again, Creed has returned with an album of songs that collectively offer the listener a passionate journey of emotive energy. Tremonti and Stapp's collaborations stand among the select few that seem to effortlessly draw the listener in and truly move the spirit through the simple art of expression. The lead single, "My Sacrifice," opens with a signature Mark Tremonti guitar intro and then envelops the listener with the mood and power no other band today commands.