16mar7:00 pm12:00 pmRehab: Reunion Tour at Canton Hall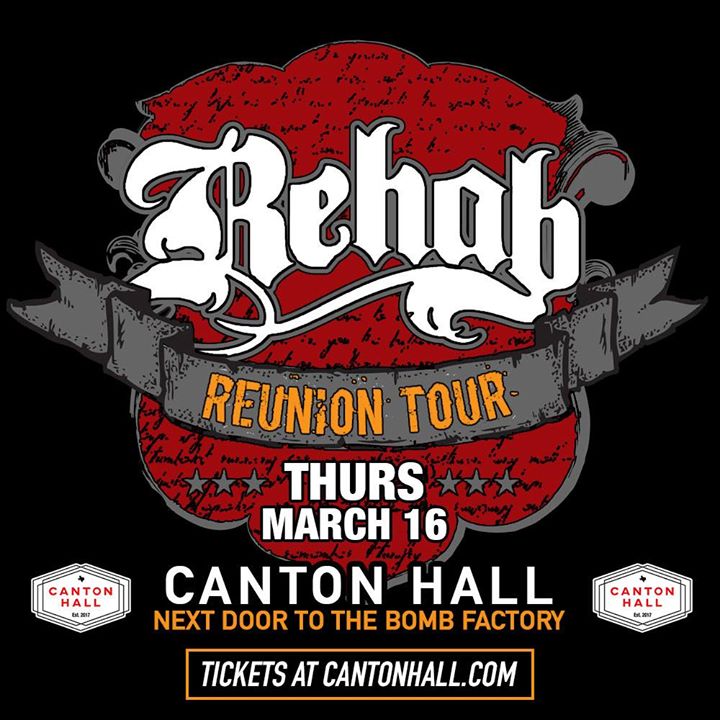 Event Details

https://www.facebook.com/rehabmusic/

Rehab is an American rock/rap group was formed during the late 1990s in Warner Robins, Georgia. Rehab has released two major albums and four other discs are in existence. In addition,

they have charted two singles on the Hot Modern Rock Tracks charts, one of which — "Bartender Song" — has also become a minor Hot 100 and country hit. This song is also their higher entry on the Rock charts.

Rehab was originally formed as a trio: Steaknife, Danny Alexander, and Brooks Buford. Early on, they released their first album "To Whom It May Consume" produced by Steaknife and Brooks Buford. Soon after, Epic/Sony offered a record deal.

Rehab's major label debut, Southern Discomfort, hit stores in October 2000. With band member Danny (Alexander) Boone hailing from the city of Warner Robins, south of Macon, Georgia. Their debut album starts with a skit of them breaking out of a rehabilitation facility. The album went on to sell over 140,000 units, and produced such hits as "Sittin' At A Bar", "It Don't Matter" (Modern Rock Top 20), "Rattle My Cage", and featured such guests as Cee-Lo, Goodie Mob, Steaknife, and Cody Chestnutt.

After 2 years on the road supporting the Vans Warped Tour and playing with bands such as Linkin Park, Danny called it quits over a difference in creative view points.

Brooks Buford, after the group's initial separation, went on to record several projects, Straight Outta Rehab, which was never released due to Artista going out of business. He worked on a follow-up album titled "Suspicious Package" as well as a side project with Ashley Alan-Lee and Tommy Henriksen called The Audio Club. In late 2005, Brooks went on to host the MTV series Trailer Fabulous and in 2006 the MTV International series "Bustamove".

Steaknife (Denny Campbell) was scheduled to release a CD under Priority Records but was later dropped from the label. Denny has stated that he wasn't very fond of these tracks. He has released an album with friend Lindsay Few titled "Trouble The Water" which is highly religion based.
The "WhiteNoize" album produced by Steaknife (Denny Campbell and Soulful-I (Jared Adair)) has been released on their myspace page under the user name of "snowblindwhitenoize".

Danny "Boone" Alexander Denny "Steaknife" Campbell, and Brooks Buford, the original members of Rehab reunited under the name "Southern Discomfort" and worked on material and recorded some tracks before label issues and creative differences put an end to it.

On July 12, 2005, Rehab re-emerged with a new album "Graffiti the World". The new Rehab was brought together by original band member Danny "Boone" Alexander. Joining him were longtime musicians Mike Hartnett on lead guitar, Hano Leathers on bass, Chris Hood on drums, Foz on rhythm guitar, and DJ Chris Crisis. An additional and unofficial member of the group, though, by the name of Demun Jones often steps in to perform the raps that Brooks once sang. The seven put together new tracks and re-worked old classics with help from local Atlanta producer Billy Hume.

Graffiti the World features the hits "What Do you Want From Me", "Graffiti The World","Last Tattoo" and "This Town" Danny Boone(a virtual musical tour of the groups hometown beginning in the 80's).
Time

(Friday) 7:00 pm - 12:00 pm
Location

The Bomb Factory

2713 Canton St, Dallas, TX 75226