16jan(jan 16)7:00 pm17(jan 17)12:00 amMario Kart 64 Pre-Qualifier at BrainDead Brewing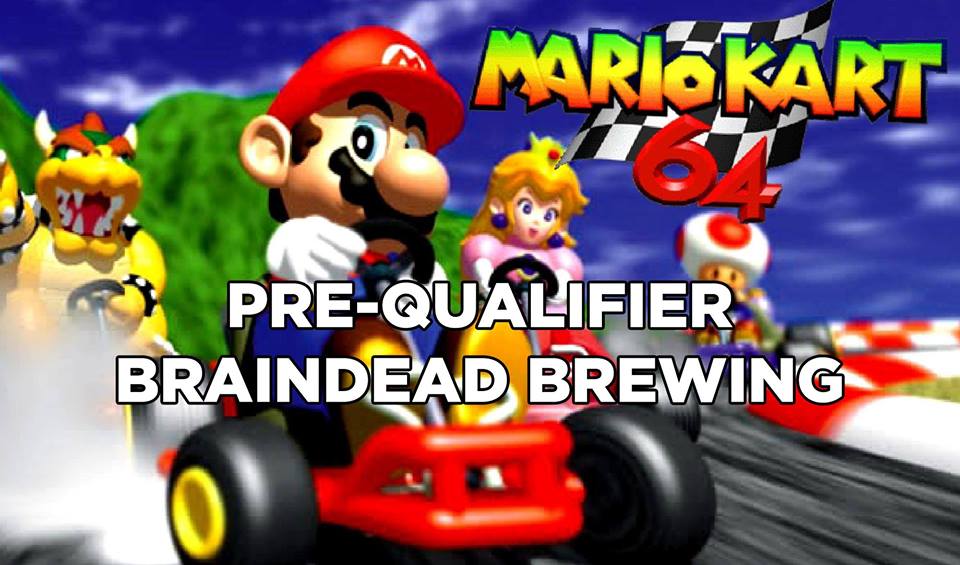 Event Details

This is your chance to pre-qualify for our Mario Kart tournament. We will cap at 64 players on this one, first-come-first-serve. Sign-up at 7pm, first game at 8pm sharp.

This event is 21+. Free to play!

Top 2 players will be put into the playoffs in the main tournament, bypassing the prelims.

HEREIN ARE THE TOURNEY RULEZ…
Single elimination prelims to get to Top 16 players.
Four player VS matches.
150cc, all characters legal.
First round will be randomly seeded.
Players with the highest point count will pick their character first (best seed picks first, then second best, etc).
1st and 2nd winners advance, 3rd and 4th go home.
TOP 2 of each tournament will advance to the FINALS!

Each match will consist of four races, and will have a points system as follows:
1st Place = 9 Points
2nd Place = 6 Points
3rd Place = 3 Points
4th Place = 1 Points

First round: Flower Cup
Second round: Star Cup
Third round: Special Cup

COURSE GLITCHES/SHORTCUTS ARE ILLEGAL. Using course glitches (I.e. Wario stadium wall jump, Frappe Snowland spin around lap-skip, Rainbow road jump, Royal Raceway jump, other lap-skipping techniques) will result in immediate elimination.
Things like Koopa Beach's cave shortcut, or any shortcut programmed into the game intentionally by the developers, is legal. Basically follow the track the programmers made for you to follow and you're good.
Time

16 (Tuesday) 7:00 pm - 17 (Wednesday) 12:00 am