22mar(mar 22)8:00 pm23(mar 23)2:00 amMamafest at Deep Ellum Art CompanyWith Tenth Mountain Division, Pillow Pocket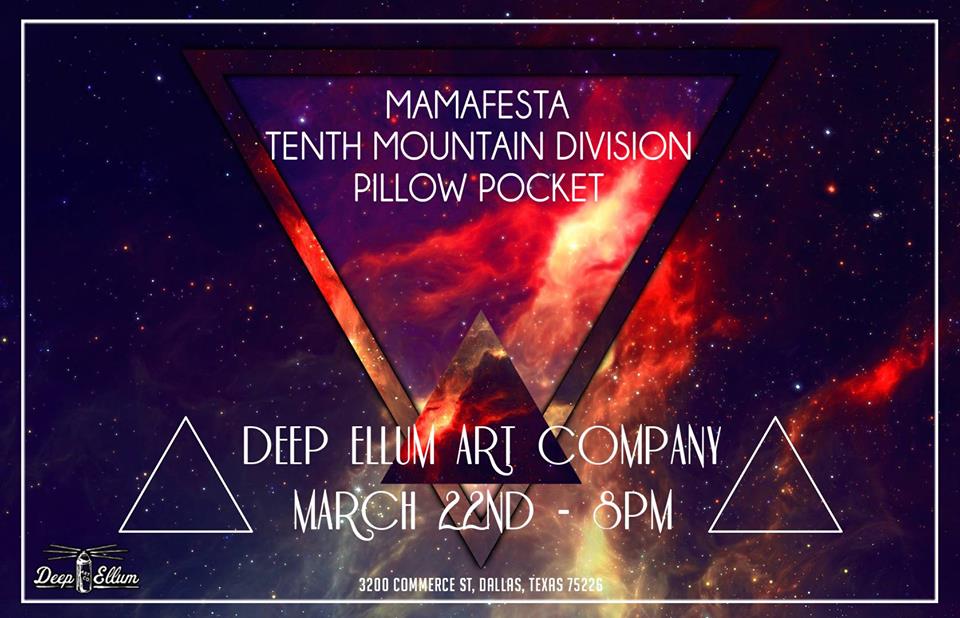 Event Details

Deep Ellum Art Company presents:

[ live music / art gallery / game yard / bar ]

>>> 4pm: DOORS & BAR OPENS

>>> 8pm: BOX OFFICE OPENS

Mamafesta is an original groove-rock outfit that was born in the fall of 2011. Over the years Mamafesta has begun to channel their own unique sound and reach out to their audiences through their musicianship and vocal messages Together these four talented musicians create a high-energy wave of sound that entices and evokes the spirit of the soul.

Mamafesta respects meaningful lyrical messages and well arranged tunes that have the freedom to go to a destination that the audience, atmosphere, and band all equally manifest together. Mamafesta prides themselves on their original material while still paying homage to the past greats and present day innovators. Hold on tight or just let go…

Tenth Mountain Division (10:15pm)

[ ski rock / bluegrass / americana ]

Tenth Mountain Division has evolved greatly since its inception but retains its roots in the American musical styles of rock, Americana, bluegrass, prog and the crossroads between them all.

Through out its preliminary years finding their roots in college and playing with an array of different line-ups, the band finally found their permanent line up in May of 2017 with the addition of bassist and vocalist Andrew Cooney. Drummer Tyler Gwynn and the ever-talented keyboard player Campbell Thomas form the quintet that creates a diverse soundscape combining soaring electric guitar leads and jabbing keys while retaining its roots in bluegrass with Heuga's incomparable mandolin style. The rhythmic interplay of Cooney's driving bass fused with Gwynn's incendiary drumming round out the unique sounding band that is truly a style of its own; what the band refers to as "Ski Rock".

[ progressive / jam / funk ]

Pillow Pocket is a phunky jam-based group out of the DFW that creates original material as well as interprets covers.

Band influences include Lettuce, The Motet, Tauk, Spafford, Umphrey's McGee, The New Deal, Vulfpeck, Dopapod, Phish, Grateful Dead, Turkuaz, Herbie Hancock, P-Funk, and Kung Fu.
Time

22 (Thursday) 8:00 pm - 23 (Friday) 2:00 am
Location

Deep Ellum Art Company

3200 Commerce St Dallas, Texas