05nov7:00 pm11:59 pmLupe Fiasco at Gas MonkeyWith Tree, Sup3Sayin and Demund Rogers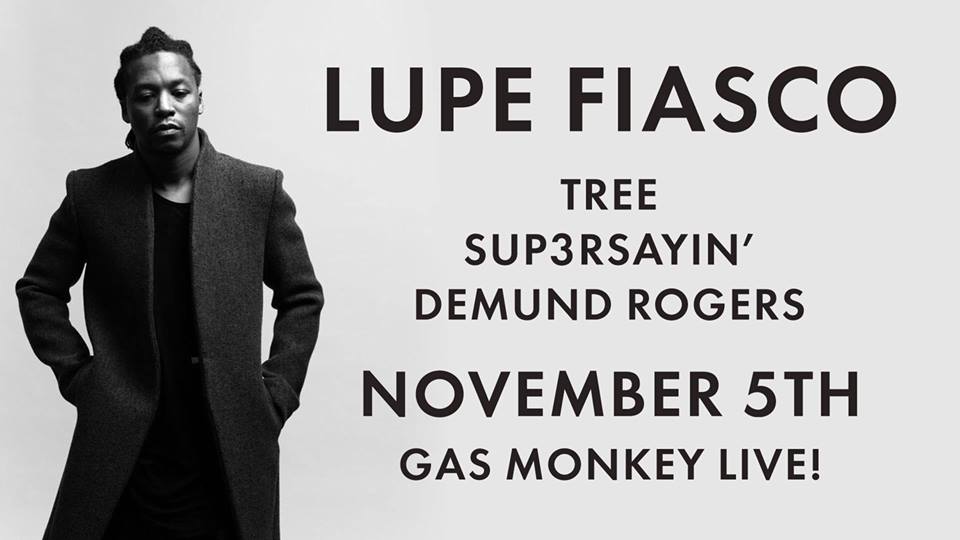 Event Details

A decade after Lupe Fiasco exploded onto the hip-hop scene with his seminal 2006 debut Food & Liquor, the Chicago native is closing the chapter on his career with his most visualized projects yet. The independent rapper, who parted ways with his former label Atlantic Records following the release of 2015's Tetsuo & Youth, hits his creative peak with a trilogy of albums—Drogas Light, Drogas and Skulls—the final curtain call on one of the most gifted lyricists and visionaries to grace the mic.

If anything, Drogas Light, the first delivery to fans arriving in early 2017 via 1st & 15th/Thirty Tigers, is a testament to Fiasco's artistic growth throughout the years. The 14-track LP is free of restraint, and daring by his standards: the sonic and storytelling palettes are vast and diverse, more so than ever before, traipsing genre and style with ease and touting songs to soundtrack everything from a night at the club to a quiet listen on headphones. Where Tetsuo & Youth leaned into more experimental pastures, Drogas Light is the embodiment of a musician whose foray beyond the boundaries of hip-hop feels increasingly natural, a glimpse into the genius that will be Fiasco's legacy as he inevitably walks away from the spotlight.