16feb(feb 16)5:00 pm17(feb 17)2:00 amLegacy Alliance Fighting 133 at Bomb Factory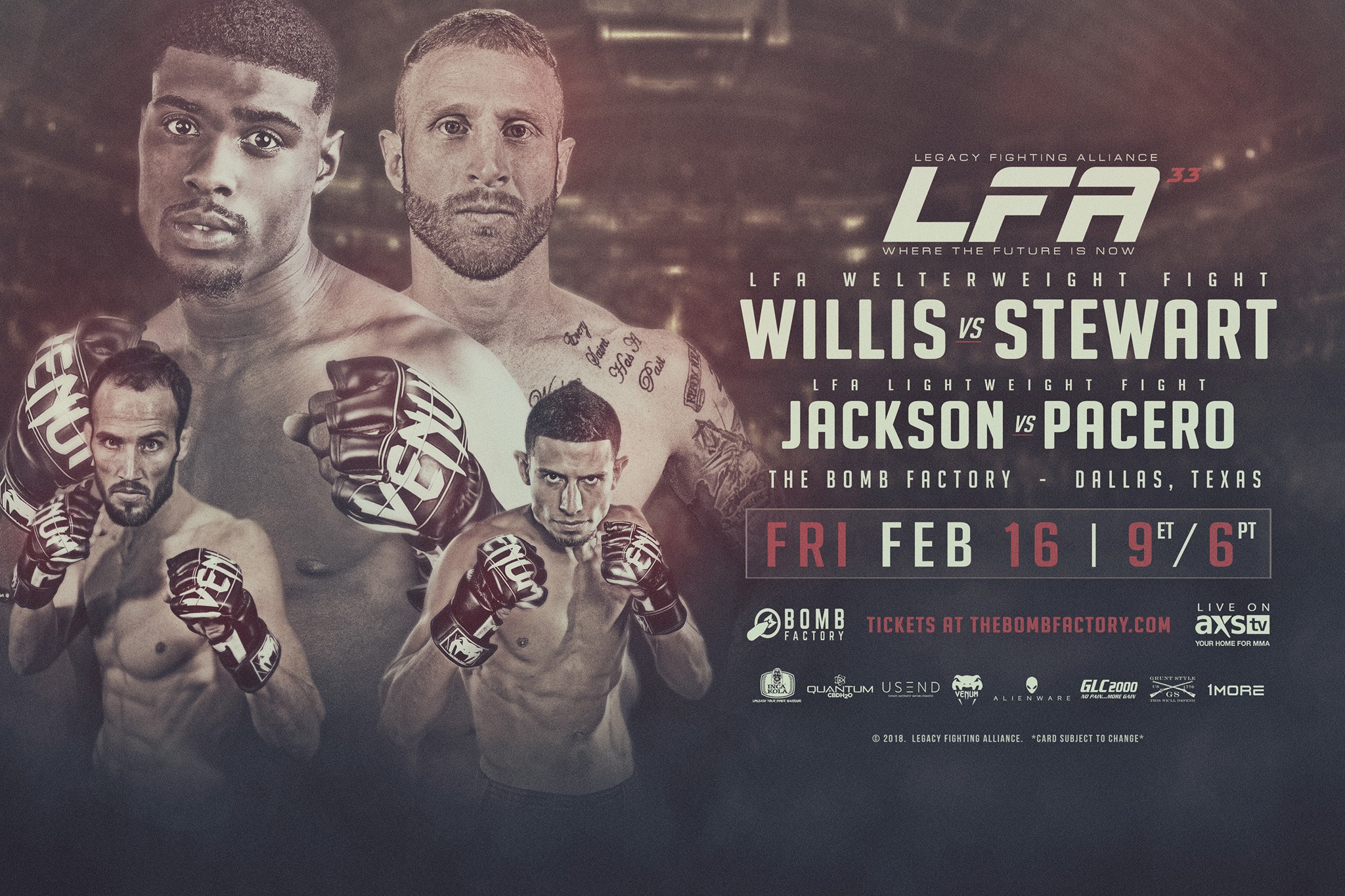 Event Details

Legacy Promotions began in late 2006 and has realized what it takes to maintain a longevity and dignity to the sport through steady, organic growth as the key to its success.

Helmed by Houston's resident Aussie Mick Maynard and his wife Andrea Maynard, the Legacy organization has actually been in the making for many years, as opposed to being an overnight success. As you'll see in our numbers, we're talking about over 60 events and 600 fights to iron out the kinks and develop a relationship with corporate sponsors alike.

As an entity, this organization actually started as a small university-based show named Lonestar Beatdown based in College Station, TX back in November of 2006. With the goal back then being chiefly to bring an exciting form of entertainment to students, Mick and crew set forth to deliver a first event that featured nine fights, including current UFC star Anthony Njokuani.

Not knowing what to expect or whether the show would even be profitable, the LSBD crew forged ahead into an unknown territory that included taking over six hours to put together a 16×16 cage, forgotten corner buckets / sponges / gauze, etc., and all other kinds of now-comical lessons at Hurricane Harry's, the original venue and country bar.

One couldn't exactly say that the show went off "without a hitch," but it was definitely better than Legacy and the town bargained for. "Lone Star Beatdown" ended up with positive reviews from the student population and fighters alike, despite the fact the place was packed to the brim and the original 16×16 cage was so small that fighters could almost reach out and high-five their opponents.

Our growing promotion would go on to host shows every few months until present day. Each event would aspire to be better than the last and the sum of them all continue to serve as an invaluable learning experience. From putting together the matchups to literally putting together the cage itself (its bigger now), the past several years have been filled with successes and hard lessons learned as the organization grew organically into what it is today.The show went on.

All in all, Lonestar Beatdown summed up to nineteen events starting with the first seven shows in Bryan / College Station before branching out to Huntsville, Ft. Worth, and Houston starting in 2008 – a city that's served as "home base" ever since then.

Starting with Legacy Fighting Championship 1 in November 2009, the organization has now hosted more than 30 more "numbered" events to go along with Legacy Amateur Series, which evolved and rebranded from the earlier Lonestar Beatdown events. Despite the success and the number of shows completed, the organization is only now starting to mature as well.

Legacy reached an important milestone on July 22nd, 2011 with the first nationally-televised show on AXS.TV, Legacy Fighting Championship 7: Dollar vs. Prater. The organization agreed to a second extension to take them through 2016 with newly branded AXS TV, now broadcast in almost 45 million homes.

With organic growth continuing to be the key and an unwavering passion for the sport, Legacy and the tight-knit MMA crew look forward to a bright future ahead recently being voted number 11 by the Houston Business Journal as one of the cities fastest growing companies.
Time

16 (Friday) 5:00 pm - 17 (Saturday) 2:00 am
Location

The Bomb Factory

2713 Canton St, Dallas, TX 75226