29aug7:00 pm11:59 pmBonton Farms a Reclamation of Land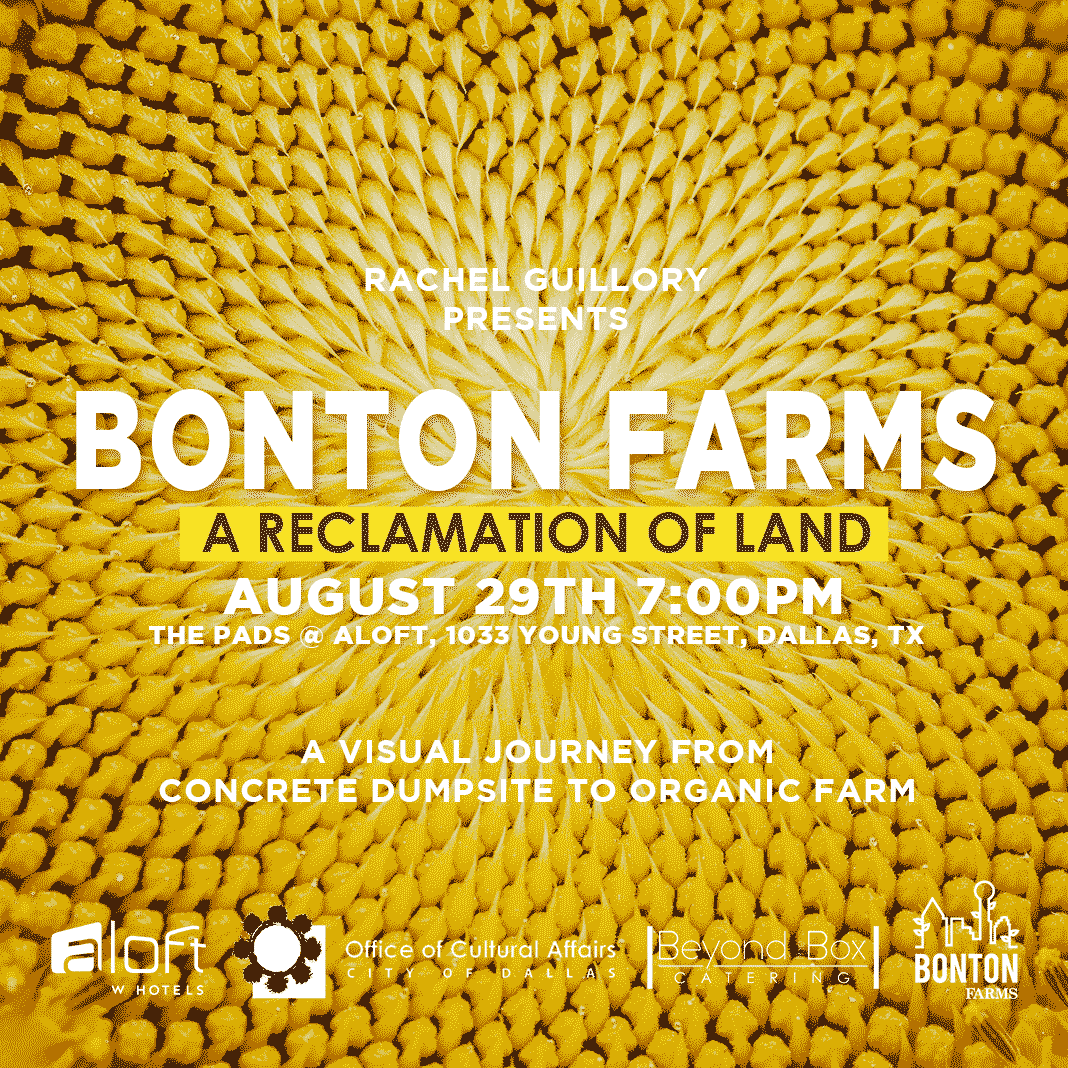 Event Details

Join Us For A Visual Celebration Of South Dallas' Grassroots Fight Against Food Deserts

VIP packages available.

Featuring A Presentation From Bonton Farms, A Conversation With The Artist, And A Limited Print Series Available For Purchase.

Proceeds Will Go Toward Funding A Coffee Table Book Documenting Bonton's expansion.

The event is on the reclamation of construction dumpsite to the conversion into a thriving urban organic farm, Bonton Farms Extention . The work at the Bonton Farms Extension is a new experience for the Dallas community. My documentation photographically is showcasing what can happen to more land in Dallas to serve the people of food deserts here in Dallas. By visually capturing the progress and transformation it will bring more people from the surrounding community to help their fellow neighbor. It takes a village to change the land and environment around you. The story of creating a farm from forgotten land to help a forgotten community needs telling. The 40 acres of land has changed to a large farm producing food for the community in Bonton Dallas needing access to fresh food in the food desert.

As a result of the work I have done for the past months, I received a grant from The Office of Cultural Affairs for the City of Dallas to produce this show.

I became interested in the food desert issues in Dallas following a project at the University of Texas at Dallas. Since Dallas is such an urban and diverse city the work that goes into creating a farm from scratch was something that I had not seen, and I talked with others in the city, and they had no idea either. So, I approached the farm in the summer of 2016 to start documenting the reclamation of land at the new 40-acre extension with no idea of what to do with all of the photographs. I have committed to a one-year documentation of the farm that will conclude at the beginning of September. I feel I have started a project that will showcase the joining of the community in South Dallas to the rest of the surrounding comminutes in Dallas proper and the whole Metroplex. Just because this is a forgotten part of the city, I am showcasing its beauty and resilience when people take the time to care for the people and the land.
Time

(Tuesday) 7:00 pm - 11:59 pm